WanderLove: Two Road Trips Through Charlottesville & Albemarle County
By Will Dozier on Aug. 11, 2020
Here in Charlottesville and Albemarle County the road is the destination. There's so much to do that, if you're visiting correctly, you'll be in and out of your car all trip! Load up your bikes or kayaks to take full advantage of our beautiful natural areas. More on that later. Experiencing the Blue Ridge Parkway and Shenandoah National Park (which intersect just twenty-five minutes west of downtown Charlottesville), our humble local UNESCO World Heritage sites, and all the wineries, restaurants, parks, presidential homes, and other attractions in between would take you well over a week, so we'll provide some clarity for you, some ideal routes. But do remember to wander while you're here.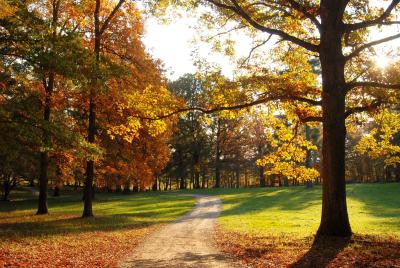 Pick a country road and see where it goes.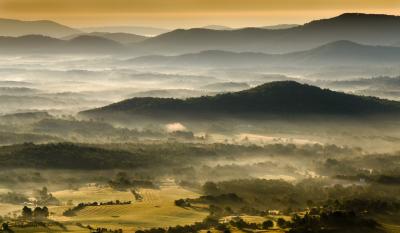 Point at a mountain and follow your finger to the summit.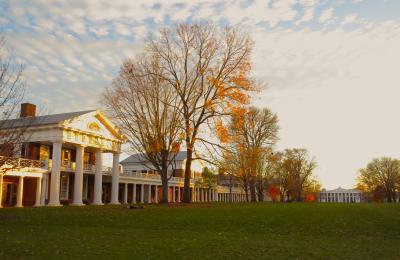 Do a somersault on the Lawn at the University of Virginia.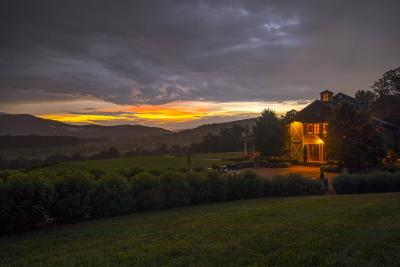 Set up some chairs at a winery and watch the sun set over the mountains.
Get up early, hop in a hot air balloon, and watch that same sun rise. Find a place with a hot tub and bask in that hot tub under the constellations with a cold sparkling water and a day full of whatever you want to do ahead of you. You deserve these things. These things are here. All are possible. We'll supply the fun, you bring the energy to match. Now for those ideal routes.
U.S. 250:
from the Blue Ridge Parkway to Keswick and back again
Driving east or west on U.S. 250 is a must. I-64, parallel to U.S. 250, is cool and all, but U.S. 250 is where it's at. We'll take you east, starting in Crozet. Crozet is beautiful because the Blue Ridge Mountains are beautiful and the Blue Ridge Mountains live right next door to Crozet. In fact, most of Crozet's neighbors are natural. Check out nearby Beaver Creek Reservoir, a fine place to kayak and appreciate the mountains at the same time. It doubles as an excellent place to picnic or set up a hammock. Also nearby are many wineries, including King Family, which we highly recommend. It should be noted here that, though we want you to enjoy yourself at our wineries, of which we have 35+, we want you to safely and responsibly enjoy them. The stretch of U.S. 250 between Crozet and Charlottesville is a favorite drive among locals. You'll see why. These hills and community centers, like Ivy, Virginia, are lovely to look at. Your way will take your right to the University of Virginia. You'll pass the rotunda, the most iconic building in the city, and Bodo's Bagels, a fine establishment, one of the best, boasting bagels as good as any you'll find in New York. Ask New Yorkers who went to the University of Virginia about Bodo's Bagels, and they will tell you that they love Bodo's. They will tell you that Bodo's bagels are so good that New York bagels were forgotten. U.S. 250 feeds right into West Main Street, and West Main Street will take you right to the heart of downtown Charlottesville. Park here, don a mask, and explore the downtown mall, one of the longest pedestrian malls in the country. Yet further east (we've now left U.S. 250 behind), on Route 22, past Thomas Jefferson's Monticello, try some cider at Castle Hill Cider in Keswick. Great cidery. Beautiful country. All this can, of course, be done in reverse as well. More of you, valued readers, will be approaching Charlottesville from the north or the east. We know this, and must apologize for any reverse engineering you may now be required to do. Should you have questions about the above, call our office, DM us on Instagram, or stop by one of our visitor centers. There's one in Crozet, the Albemarle Tourism and Adventure Center, and one in downtown Charlottesville.
South on U.S. 20:
The road that leads to Scottsville
Start this route from the north. Or in Scottsville, which is south as south goes in Albemarle County. It's up to you. It's your trip! Scottsville is a must-see, and is up there with Crozet as a top community in which to appreciate the unique beauty of Albemarle County. We'll pull into Scottsville in about a dozen sentences. Let's start at James Madison's Montpelier, shall we? Montpelier is a little ways north of Albemarle County, but still in the general area, and is a fine place to learn about American history. Very fine. They do a methodical, thorough job of telling the story of the property from many perspectives. Midway down from Montpelier, and only a few miles from downtown Charlottesville, are the attractions on Route 53. Perhaps you've heard about a few of them. Thomas Jefferson's Monticello, featured on the nickel, is right next-field to James Monroe's Highland. These two places, former homes of U.S. presidents, also do an expert job of telling American stories on a human level. You'll learn a lot at either place. Nearby are many wineries. Jefferson Vineyards, named after someone who used to live on a nearby mountaintop, and Gabriele Rausse Winery, named after the winemaker known as the Father of Virginia Wine. Consider visiting one or two in responsible fashion. But back to the route. We can't forget where we're going.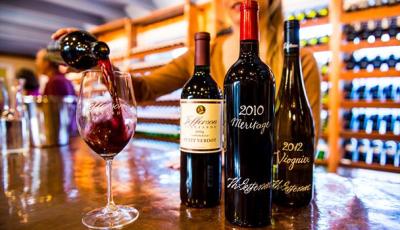 Before visiting Scottsville, or after arriving, we invite you to kayak, tube, raft, or paddleboard on the James or Rivanna Rivers. The Rivanna is calm and wide, lined with shaded rocky banks, and close to the heart of downtown Charlottesville. The James, broad and beautiful, is our biggest river. On your way to or from the James, stop by Scottsville's quaint, historic downtown for a drink or a bite to eat. From the Rivanna, try the pedestrian mall in the heart of Charlottesville, an eight-block stretch of shops, restaurants, cafes and public art. It's a great place to enjoy a socially-distanced outdoor lunch, dinner or morning coffee. Don't worry about bringing your own equipment to either river. Look to the Rivanna River Company at the Rivanna, and James River Runners or James River Reeling and Rafting near the James for any rentals you may need.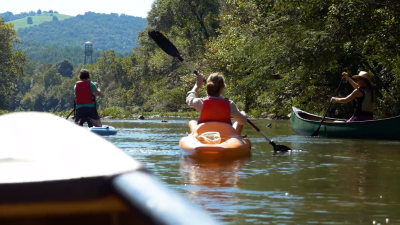 We hope to see you here in Charlottesville and Albemarle County soon, at a distance of at least six feet! Please note that wearing a mask is required in all public spaces. We don't ask that you wear one… you have to. If, however, you are outside and, say, ten feet away from anyone not traveling with you, you can take your mask off. Should you still be undecided about where to stay, this is the page for you. We hope to see you when you're ready to travel! We'll be here, and we'll be smiling. For more road trip ideas, click here.